Balenciaga may have left Twitter, but that hasn't stopped users of the site from discovering the luxury brand's every move.
On November 21st, June Nicole Lapine, better known as @shoe0nhead, took to Elon Musk's Twitter to imply that the luxury fashion label is conspiring to exploit children – an unjustified claim made even more absurd by the YouTuber's reasoning.
She begins by highlighting a few photos from Balenciaga's holiday gift campaign, which starred child models wearing the brand's harness-clad teddy bear bags, accessories that debuted at Balenciaga's Paris Fashion Week Spring / Summer 2023 runway presentation.
While some have objected to Balenciaga's decision to put the BDSM-inspired bags in the hands of young children, the isolated campaign is not exactly indicative of a wider conspiracy.
However, Lapine builds her case by wrongly linking the images to photos of an entirely separate – again, completely separate – campaign promoting Balenciaga's collaboration with adidas.
These photos feature the collaboration's Three Stripes handbag on top of a stack of very official looking documents.
When zooming in, it turns out that one of those documents is a comment from United States v. Williamsa Supreme Court ruling that upheld the PROTECT Act, a federal law that criminalizes the advertising, promotion, presentation or dissemination of child pornography.
A bizarre choice in set dressing? Absolutely. Definitive evidence that, as Lapine suggests, Balenciaga indicates something illegal? Hardly.
She cites Balenciaga's deleted Instagram feed as further indication of the brand's alleged culpability. Of course, anyone who follows the company knows that it periodically deletes its feed and fills the blank sheet with its latest drop.
Just before Lapine's conspiratorial tweets went viral, Balenciaga's official Instagram was filled with fresh images of its Spring 2023 Garde-Robe collection, which launched for pre-order on the morning of November 21.
Some particularly zealous conspiracy theorists began commenting on Balenciaga's latest posts with references to Lapine's claims, which have since received tens of thousands of likes and re-tweets.
On Nov. 22, Balenciaga disabled comments on its Instagram page and posted a story apologizing for the drama surrounding its holiday gift campaign.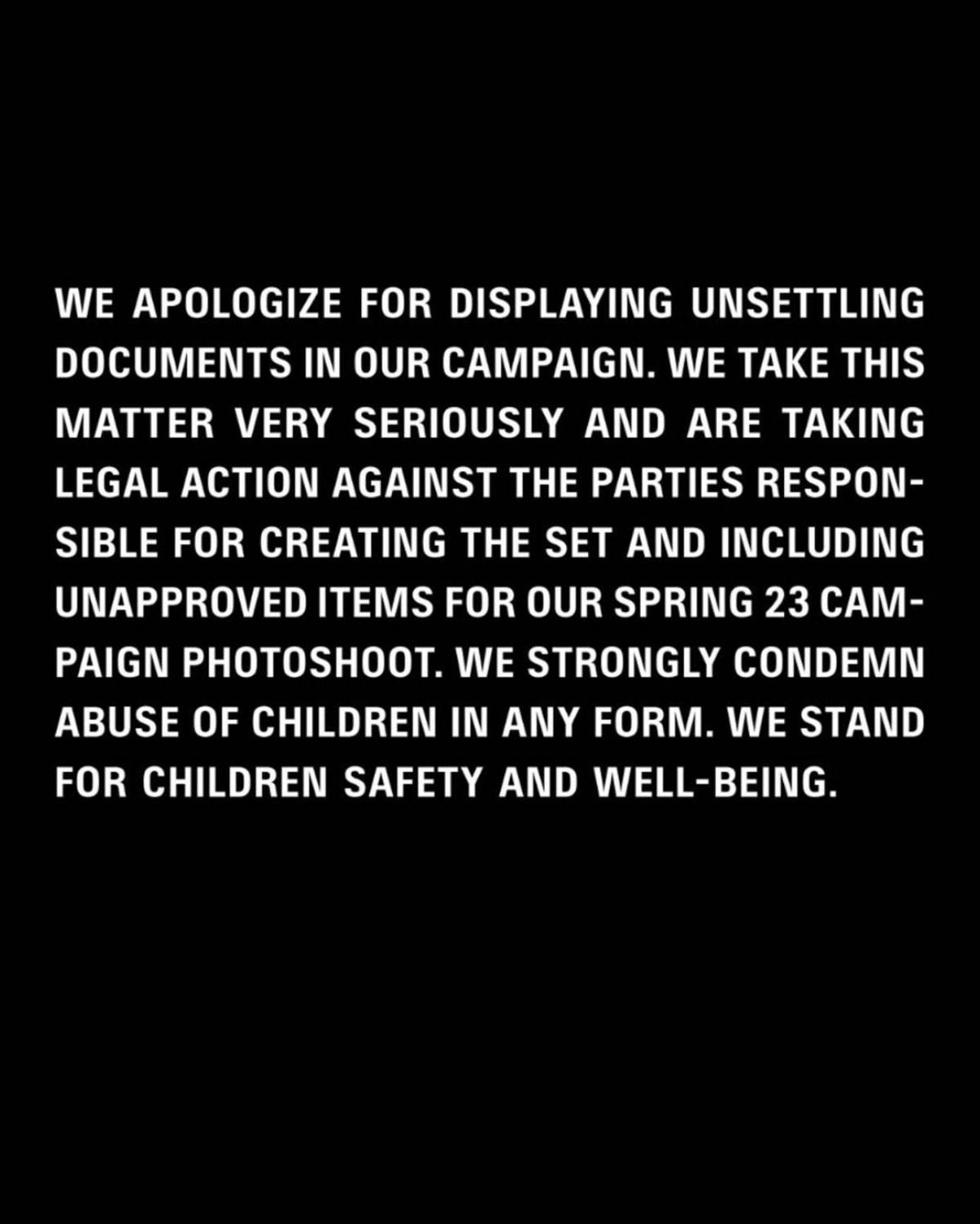 "Our teddy bear bags should not be presented with children in this campaign," the statement read. "We have immediately removed the campaign from all platforms."
Two hours later, Balenciaga posted a follow-up story about those court documents that appeared under the adidas bag, a quick response that may have been prompted by the Kanye controversy that had escaped it just the month before.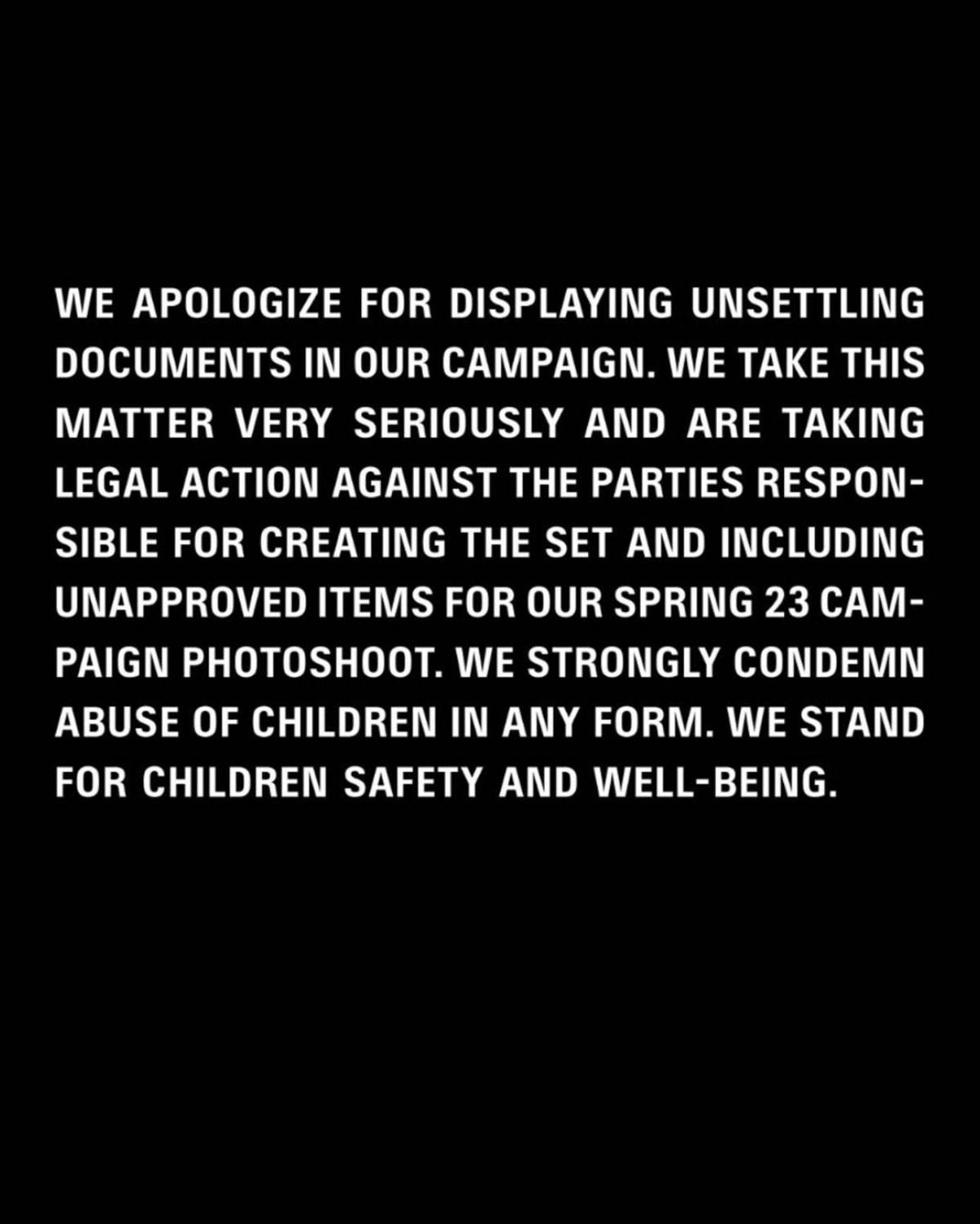 "We are taking legal action against the parties responsible for creating the set and including unapproved items for our Spring 23 campaign photo shoot," it explained. "We stand for the safety and well-being of children."
Balenciaga did not immediately respond to Highsnobiety's request for further comment.
While it's tempting to buy into Lapine's salacious plotline, she presents zero evidence that, as she implies, Balenciaga is definitively tied up in some kind of Epstein-esque child abuse.
Also misinformed: her claim that the photo with a copy of United States v. Williams is part of the same campaign with Balenciaga's teddy bears (who, by the way, are more '80s punks than actual leather fetishists).
She is of course just doing what the internet does best: making mountains out of moles in the name of clicks.
Hey, we all do, but at least Lapine could get her facts straight.
Or not! The story may be completely baseless, but it sounds offensively, that was enough to get it a mention on Tucker Carlson's famous fact-free primetime show. As a result, conservatives on Twitter are piling on the untruths. Just as Elon intended!
Shop our favorite products